Introducing I-Scan™, a powerful and precise tool designed to measure and analyze interface pressure between two surfaces using a thin and flexible sensor. Our system consists of cutting-edge data acquisition electronics, high-quality sensors, and user-friendly software.
The exceptionally thin tactile sensor excels at measuring both force and pressure, ensuring minimal interference between the objects being examined. This capability allows us to obtain accurate and reliable interface pressure data, providing vital insights to enhance product design, manufacturing processes, quality control, and research efforts.
With I-Scan™, you gain the advantage of accessing crucial information that will elevate your products and projects to new levels of excellence. Experience the power of precise interface pressure measurements for driving continuous improvement and achieving unparalleled results.
Which I-Scan System is Best for Your Application?
I-Scan™ offers different options for data acquisition electronics, providing you with the flexibility to tailor our solutions to your unique requirements. We understand that each application demands specific features and capabilities, and that's why our range of data acquisition electronics is designed to cater to diverse needs.
To help you make an informed decision and choose the best fit for your application, we invite you to explore the various configurations we have available. For a more comprehensive understanding of our system options, features, and specifications, you can download the I-Scan Product Selection Guide.
Our commitment to delivering accurate and reliable results remains unwavering. With I-Scan™ data acquisition electronics, you can harness the power of precise measurements, gaining valuable insights that will elevate your projects and drive progress in your field. Experience the efficiency and precision that comes with our cutting-edge technology. Step into the future of data acquisition with I-Scan™.
I-Scan Product Selection Guide
Browse Our I-Scan Configuration Options:
Comparison Chart
| Model Option | Evolution (Standard USB) | VersaTek (High Speed USB) | Remote VersaTek (Wireless Hub) | Wireless (VersaTek Wireless) | Datalogger (VersaTek Datalogger) | PM64 (Large Scale Deployment) |
| --- | --- | --- | --- | --- | --- | --- |
| Data Acquisition Electronics | | | | | | PM64 Electronics |
| I-Scan Software Compatibility | I-Scan 9 and below | I-Scan 9 and below | I-Scan 9 and below | I-Scan 7 | I-Scan 7 | I-Scan 9 and below |
| Maximum Scanning Speed | 100 Hz | 20,000 Hz | 20,000 Hz | 4,600 Hz | 20,000 Hz | 100 Hz |
| Cross Handle Scanning | No | Up to 8 | Up to 2 | Up to 2 | Up to 2 | No |
| Pulse-Per-Frame Synchronization | No | in & out | in & out | in & out | in & out | No |
| Adjustable Sensitivity | x 3 to 1/7 of Sensor Pressure Rating | x 7 to 1/3 of Sensor Pressure Rating | x 7 to 1/3 of Sensor Pressure Rating | x 7 to 1/3 of Sensor Pressure Rating | x 7 to 1/3 of Sensor Pressure Rating | x 3 to 1/7 of Sensor Pressure Rating |
| Power Source | USB Port of PC | 100-240V Power Supply | Power Bank: 12V and 5V/6,000 mAH | Li-Ion Battery: 8V, 2.4A or Power Supply: 100-240V | Li-Ion Battery: 8V, 2.4A or Power Supply: 100-240V | USB Powered, 150mA, 5V |
| Maximum Handle Cable Length | 5.0 m (16.4 ft.) | 30.48 m (100 ft.) | 30.48 m (100 ft.) | 30.48 m (100 ft.) | 30.48 m (100 ft.) | 0.9 m (3 ft.) Shielded USB 2.0 USB-A to RA USB Micro-B |
| Maximum Hub Cable Length | n/a | 5.0 m (16.4 ft.) | n/a | 5.0 m (16.4 ft.) | 5.0 m (16.4 ft.) | n/a |
Sensors
Discover a vast selection of over 200 flexible, thin film tactile pressure sensors at I-Scan™. Choose from various sizes, shapes, resolutions, temperature ratings, and pressure ranges, reaching up to 25,000 psi or 1,700 bar. Tailor your measurement capabilities to meet your precise needs with our diverse sensor offerings.

High spatial resolution

Up to 248 sensing elements/cm2 (1,600 sensing elements/in2)
Sensing elements with as narrow as 0.6 mm (0.02 in.) spacing

Sensing area ranging from 3 mm x 3 mm (.12 in. x .12 in.) to up to 1,734 mm x 1,768 mm (68 in. x 69 in.)
Optional high-temp sensors can withstand up to 200°C (392°F)
Fully customized sensors can be manufactured
Increase the distance between your sensor and electronics with our reusable tab extenders
Watch this short video covering our Top-5 Most Popular I-Scan Sensors
Superior Data Analysis
I-Scan™ provides the tools for more comprehensive and higher quality analysis than ordinary pressure sensing technologies.The software displays the pressure distribution data, in multiple formats, for superior analysis.
Key Features
Real-time sensor data viewing
Visualization enhancements of the pressure image

2D & 3D representations
Interpolation, contours & averaging for clearer image

Pressure displayed in engineering or relative units
Single & multi-point calibration
Analysis tools

Center of force & trajectory
Peak force and contact area identifiers

ASCII export capability
Save as AVI
Sensor scan rate up to 20 kHz
Graphical analysis of real-time or stored data

Total force
Contact area
Contact pressure
Peak force
Peak contact pressure
Graphic & Data Analysis

Experience the power of time-captured force with I-Scan™. Easily click on any point during a pressure mapping recording to instantly view the corresponding pressure output image. Gain real-time insights and make informed decisions with seamless precision.

Data from each frame includes:

Total force
Center of force location
Peak pressure
Pressure distribution (e.g., force on each sensing element)

Ensure precise functionality with I-Scan™ as each sensor requires its dedicated MAP driver file for seamless operation. The software generates accurate depictions of individual sensor layouts using sensor MAPs. These MAPs control the pressure image window's shape in the software, precisely matching the sensor's sensing area dimensions. Experience unmatched accuracy and tailor-made solutions with I-Scan™ sensor technology.

Visualization

I-Scan 9 offers optimized 2D and 3D display algorithms in the software to aggregate sensor data into a smooth pressure map display, providing a more realistic representation of the object being measured.

Choose from various averaging views, including combination views, to tailor your visualization experience.

Property Table

With I-Scan™, streamline your analysis using the integrated property table. This powerful feature showcases key metrics from multiple data sets being analyzed simultaneously. Total Force, Contact Area, Contact Pressure, Peak Force, and Peak Contact Pressure are presented, enabling comprehensive comparisons of multiple tests.

Personalize the colors of region shapes to align with the names of rows, simplifying correlation and enhancing your measurement insights with I-Scan™.
Tablet Compatibility
I-Scan Evolution software offers the convenience of running on a tablet operating on Windows 7 and up. Embrace the portability of your I-Scan system and unlock a host of additional capabilities, including: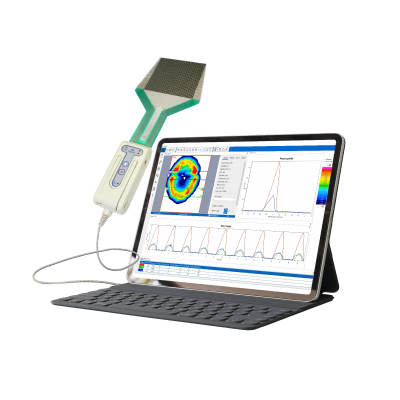 Remote data collection and analysis
Remote control of viewing recording/triggering of a system
Ability to test in areas that may have safety risks, such as machine setup or production line spot checks
Requirements include:
Tablet must have a USB A 2.0 connection
Each tablet must have its own software license
Only for use with one Evolution handle
I-Scan software must be version 7 or above

---