NEW Product: High-Speed TireScan™
(23. March 2023)
Today is an exciting day for Tekscan, and the tire industry. We are proud to announce the official launch of the High-Speed TireScan™. (Download SpecSheet/System Flyer)
This new lightweight but robust system captures the impact of speed, motion, and inertial forces on a tire footprint at speeds up to 265 km/h (165 mph). For the first time, tire and automotive engineers and designers can measure dynamic contact patch pressure (DCPP) from a tire running on a Flat Track machine at speeds up to 165 mph. This empowers them with critical insights on the factors influencing tire performance in a test environment that is most similar to the real environment. Specifically, they can:
Characterize contact patch behavior at high speeds and slip angles
Identify failure modes
Measure tire distortion from speed and inertial forces
Evaluate cornering performance
How is this System Different from CrossDrive and VersaTek TireScan Systems?
The CrossDrive and VersaTek systems have a 2D array of sensing elements measuring the contact patch of the tire. Because these arrays can have up to 250,000 sensing points, scan speeds are limited to 20 to 125 Hz. These systems are ideal for showing detailed tread pattern of static or slow rolling tires. Tires rolling across the sensing array above 10 km/h (6 mph) will not get an accurate reading from the sensor.
The High-Speed TireScan System uses a linear array to scan from 10 to 20 kHz as the tire crosses it in order to create an image of the contact patch, or tire footprint.
This system is ideal for showing the shape and pressure distribution of the contact patch of fast-moving tires.
Sensor Models
There are two sensor models available for this system: the 9602 and the 9606. The 9602 is a smaller sensor designed for smaller tires (passenger and SUV) and the 9606 is for larger tires (truck, bus, race cars, aircraft).
More specs can be found in the System Flyer.
With the High-Speed TireScan™ System we have to possibility to create a high-resolution recording of your tire rolling on a belt (at speeds as high as 165 mph) and get you instant contact patch data in a small, lightweight but rugged system that can easily adapt to almost any belt or drum.
After a multi-year effort between Tekscan and the R&D team at Calspan, we are just weeks away from bringing this vision to reality with the commercial launch of the High-Speed TireScan™ system.
Click below for a preview:
Users of our previous-generation system realize the value that pressure mapping data provides in tire R&D. Many users have indicated that the ability to capture tire patch pressure under high-velocity conditions on a belt would be a game-changer in their testing, and we are proud to be able to deliver this functionality.
Multipurpose Tire Footprint Pressure Measurement
The TireScan™ CrossDrive system is a fully integrated solution capable of measuring large tire footprints at a high resolution. 250K sensing elements over a 508 mm x 508 mm (20 in. x 20 in.) area allows the system to measure footprints across a diverse tire portfolio (car to truck tires). The ruggedized housing is designed to handle harsh environments, allowing the system to collect footprint pressure data while the tire is experiencing shear forces from acceleration, deceleration, toe, and camber. The intuitive, application-specific graphing and image analysis software enables quantitative and qualitative analysis of the tire footprint.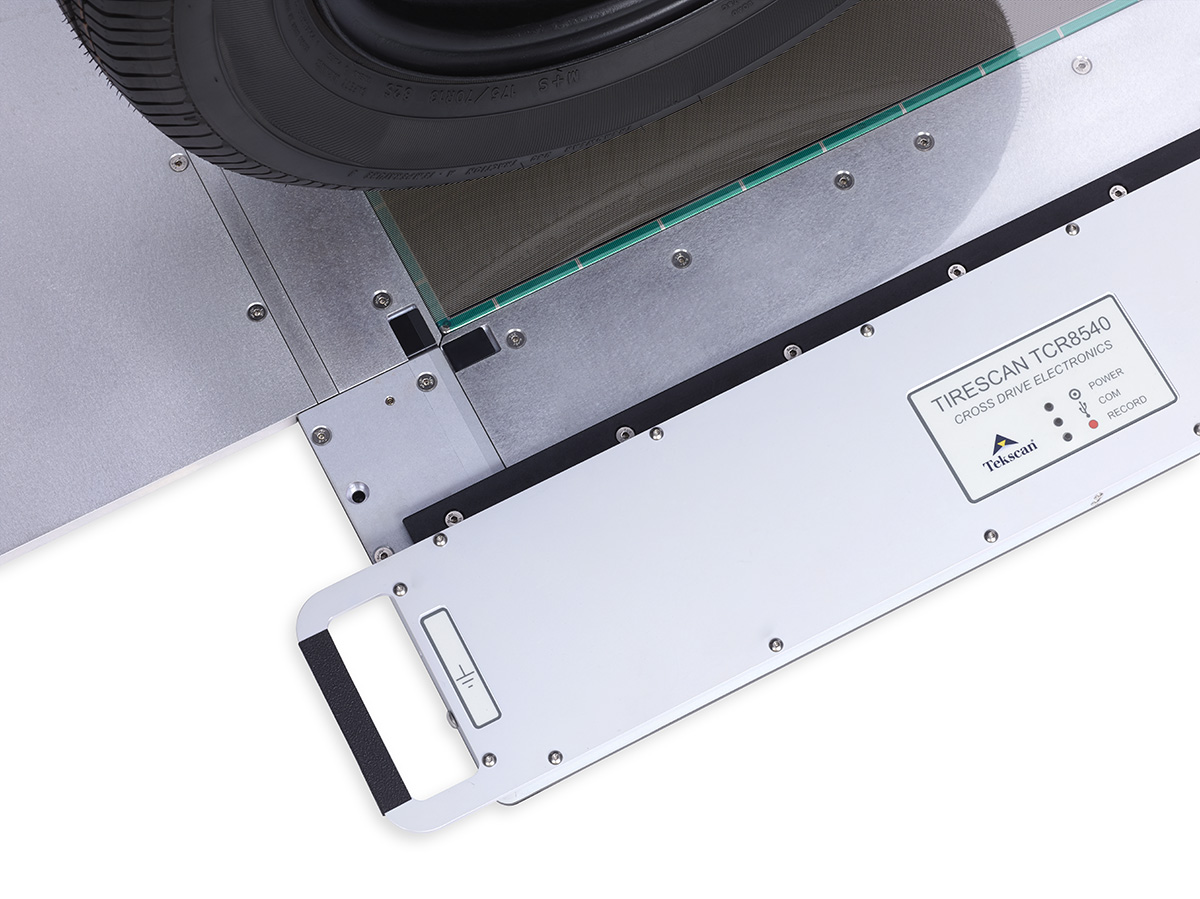 Key Features:
Dynamic recording and playback
Graphing and data analysis capabilities
Quick and easy generation of custom reports
Durable & resuable sensors
Thin & incompressible - dimensional stability is key for repeatable measurements
Fast testing procedure. No ink, paper, or scanning
Key Applications Include:

Tire footprint pressure pattern evaluation
Analyze various tire compounds and tread designs
Assess suspension and camber
Sipe and tread block design and testing

Tire mold adjustment
Race vehicle "set-up"
Manufacturing quality assurance
Competitive benchmarking

Road surface predictive wear studies
There have been a number of research projects conducted where Tekscan's pressure measurement technology has played a crucial role. To view the list of these research studies:
Download the bibliography for Pressure Mapping Applications.
---
CrossDrive System Components
Components depend on system configuration. Additional items may be included with your system purchase.
Base plate with fully integrated electronics that connect to sensor with a large sensing area and high resolution
Supports a wide range of tire measurements with a single configuration
Includes Equilibration Device (PB100K) to normalize all the sensing elements on the sensor, improving accuracy, and extend the lifespan of the sensor.
CrossDrive Sensor Specifications
CrossDrive's sensor can capture footprints of passenger, truck, agricultural, mining, and OTR tires at high spatial resolution.
CrossDrive Sensor

Sensor Specifications

Sensing Area

508 mm x 508 mm (20 in. x 20 in.)

System Area

704.9 mm x 807.1 mm (27.75 in. x 31.78 in.)

# of Sensing Elements

250,000

Spatial Resolution

1.0 mm x 1.0 mm (0.040 in. x 0.040 in.)

Standard Pressure Range

0 - 2,068 kPa (0 - 300 psi)

Scanning Rate (Hz)

22

System Model #

TCR8540
General Sensor Specifications
| | |
| --- | --- |
| Sensor Technology | Resistive |
| Accuracy | ± 5% |
| Pressure Range | 0-4,100 kPa (0-600 psi) |
| Thickness | 0.2 mm (0.008 in.). Not compressible |
Analyze Tire Footprint Pressure Profiles
TireScan™ provides the tools for a comprehensive and high quality analysis. The software displays the pressure distribution data in multiple formats. The user has the option to create and customize reports from the corresponding tire data and export as a CSV or Microsoft® Word formatted file.
TireScan software is available in several languages including Spanish, French, and German. View all software languages.
Data Acquisition Electronics
In order to obtain the pressure data, our scanning electronics scan the thousands of sensing points within each sensor. The data is instantly relayed to the software on your PC via USB.



Ruggedized Housing

Aluminum housing was designed to provide a smooth surface for the tire to roll over the electronics. The leading and trailing plates can be attached for use during rolling tests or removed for static measurements using a load machine.

Shear Force Protection

The sensor is able to withstand aggressive measurements such as Slip Angle Testing. (5kN of shear force shown above.)
Data Acquisition Electronics Specifications

Housing Material

Aluminum (Viton Steel)

Connection Type

Ruggedized USB 2.0

Weight

72 lbs.

Power Source

Input: 100-240V 5A 50-60 Hz, 1.2A
Output: 12V, 5A

Cable Length

3m (10 ft.) standard (Up to 5m (16.4 ft.) available).

Ambient Temperature

-40º to 60º C (-40º to 140º F)

Ambient Humidity

5% to 90% RH
Looking to Measure Large Tire Footprints?
If you are looking to measure aircraft, agricultural, truck, or bus tires, look no further. Check out our TireScan VersaTek product line that features modular ruggedized electronics and base plate models configured to measure various tire sizes.